This weekend is our annual Book Fair. If you live near by you won`t want to miss this sale!
Summer Book Fair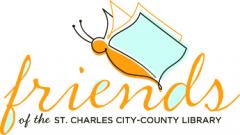 ____________________________________
Friday, May 31 - Sunday, June 2
____________________________________
9:00am - 12:00pm


Friends Members Advance Shopping Hours
12:00pm - 9:00pm


Sale Opens to the Public
Saturday, June 1
9:00am - 7:00pm


Free Admission

Sunday, June 2
10:00am - 3:00pm


Free Admission
Mark your calendar now and spend some time with your Friends at the annual Summer Book Fair May 31 to June 2! Enjoy the comfort of shopping in the air conditioned St. Charles Convention Center and stock your bookshelves with some great summer reads! Admission is free all three-days. Hours vary daily.
NEW: Members Only Hours...It Pays to Be a Friend!
For the first time in the event's history, Friends members will enjoy advance shopping hours on the opening day of the sale. From 9:00am to 12:00pm, only Friends members will have access to the more than 250,000 books, movies and other media offered. The sale opens to the public at noon.
To fully enjoy "members only" hours, purchase or renew your membership now. Memberships received by Tuesday, May 28 will be processed in time for the sale. Memberships will also be available for purchase at the event, however, membership sales will not begin until after 9:00am when the sale opens.